Politics on Chhath Puja Intensifies in Jharkhand
The decision of the Jharkhand government prohibiting congregation and religious ceremony on the banks of rivers, ponds and other water bodies for Chhath Puja in view of Covid-19 has not just irked common citizens but has also heated up the politics in the state. Not just the opposition Bharatiya Janata Party that has expressed anger over the ban and demanded revoking the order, the government is facing criticism from its own party and its ally.
The ruling Jharkhand Mukti Morcha and its partner in the state government Congress have also expressed anger over the decision.
BJP Member of Parliament from Ranchi, Sanjay Seth along with Ranchi MLA CP Singh, Hatia MLA Naveen Jaiswal, Kanke MLA Samri Lal and other supporters demonstrated a protest against the decision of the government by standing in a  pond for almost one hour.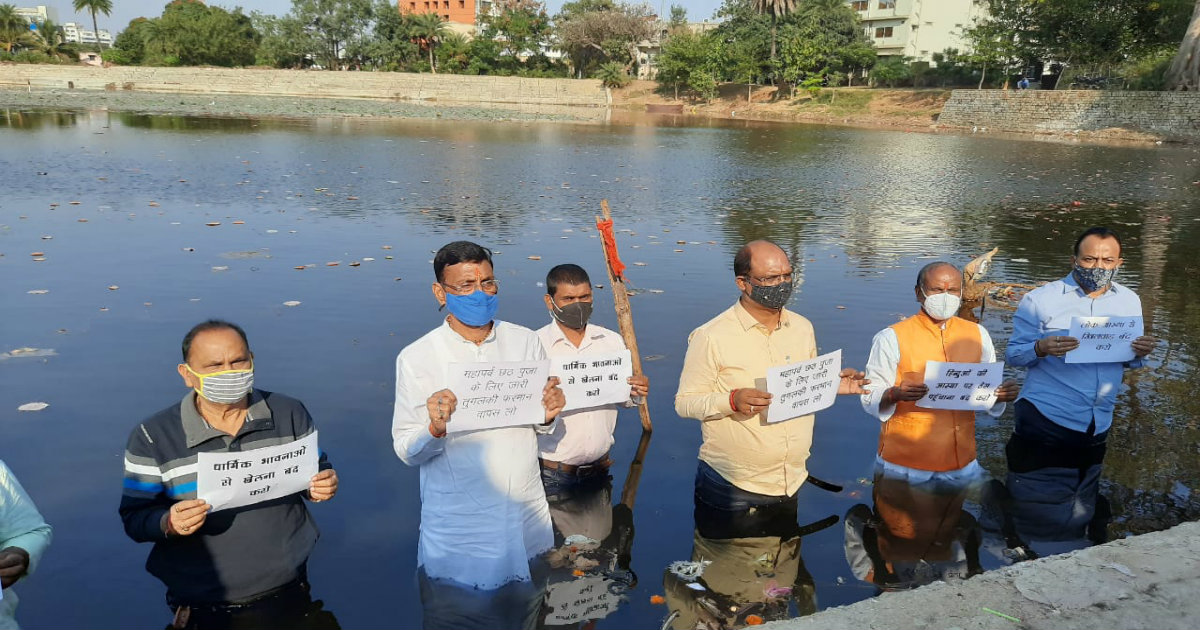 BJP State President Deepak Prakash has written a letter to the Chief Minister demanding amendment in the guidelines.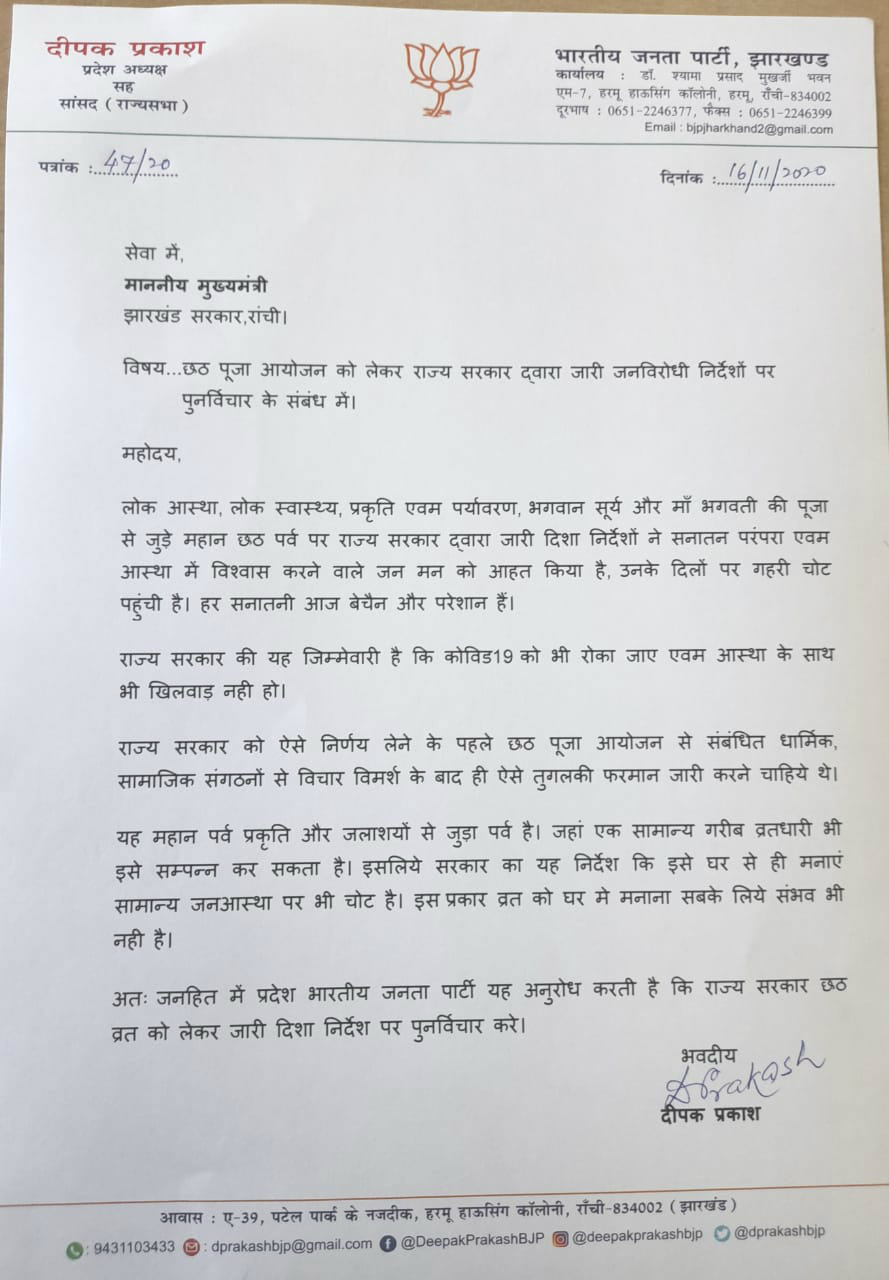 JMM General Secretary Vinod Pandey also submitted a memorandum to Chief Minister Hemant Soren against the order.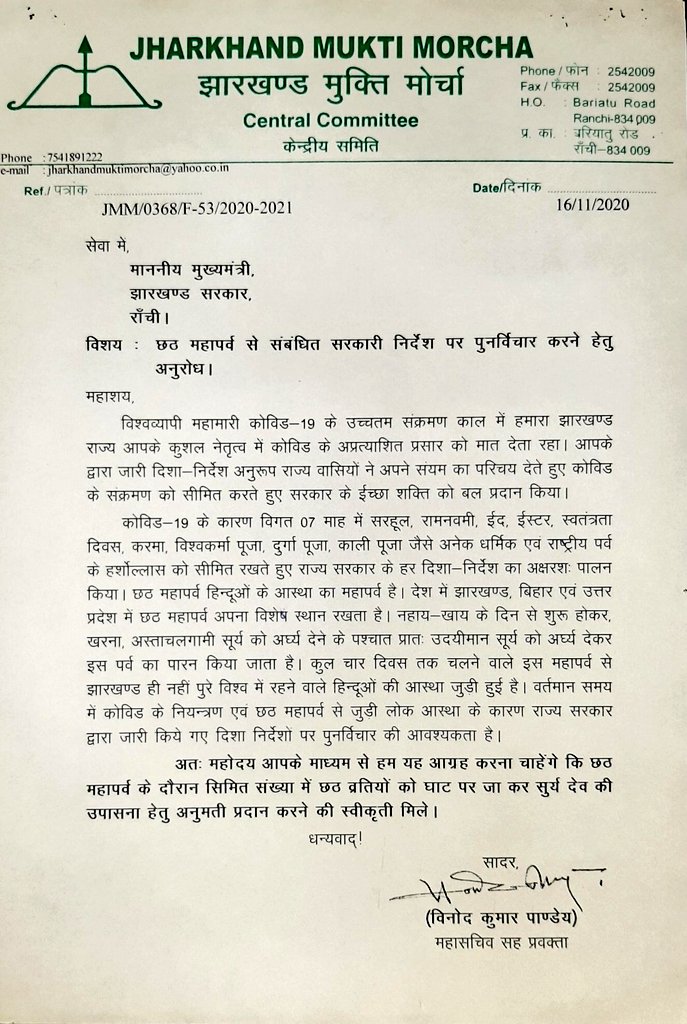 Giridih MLA Sudivya Kumar Sonu also appealed to amend the guidelines and demanded permission to worship at Chhath Ghats.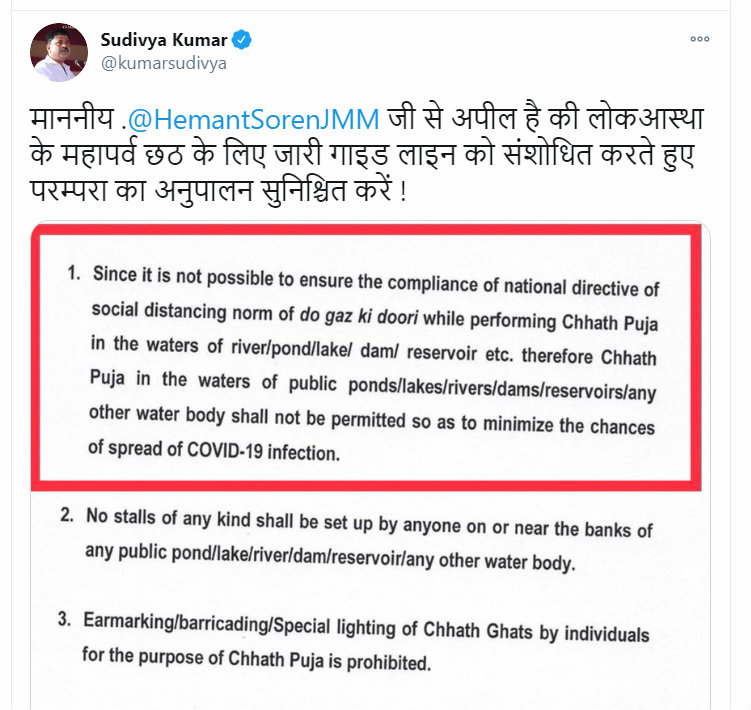 Congress co-working President Rajesh Thakur has also opposed the government's decision and said that the Jharkhand government must respect the public sentiments. He urged the government to reconsider issuing a new guideline.
Social Media was also abuzz with people expressing their anger and displeasure at the decision of the Jharkhand Government banning Chhath Puja at waterbodies across the state. People definitely wanted to know "if rallies and gathering were allowed for elections then why not for Chhath? On Wednesday netizens started tweeting # छठ_तो _घाट _पर _ही _होगा _challenge.
The State Disaster Management Committee late on Sunday had issued guidelines that Chhath Puja in water bodies including public ponds, lakes, rivers, dams, reservoirs shall not be permitted in view of Covid-19 pandemic.
Everyone is hoping that a revised guideline on Chhath Puja may be issued keeping in mind the sentiments of people.