Jharkhand NEET Counselling 2020: State of Eligibility Overlooked Again
Once again, the Jharkhand NEET counselling 2020 process for admission in the Medical and Dental colleges of the state is at the centre of controversy. Many MBBS students who took the National Eligibility cum Entrance Test (NEET) are alleging that there are several names that appear in the merit list of Jharkhand as well as Bihar. Jharkhand has about 300 MBBS seats under the state quota in NEET. The students allege that NEET's state quota seats are being taken away by students from Bihar by producing fake domicile certificate of Jharkhand.
According to the experts, one aspirant can appear in only two NEET counselling- the Central Counselling and State Counselling. For the state counselling, students/aspirants must have the state domicile. A student cannot take benefit of being a local resident of two states simultaneously. In such a situation, students of Bihar who have applied for counselling for admission in the medical colleges of Jharkhand could be possible in possession of a fake residential certificate, the students contend. Many took to social media to highlight such discrepancies in the merit list. There are about 40-50 names that appear in the merit list of both Jharkhand and Bihar.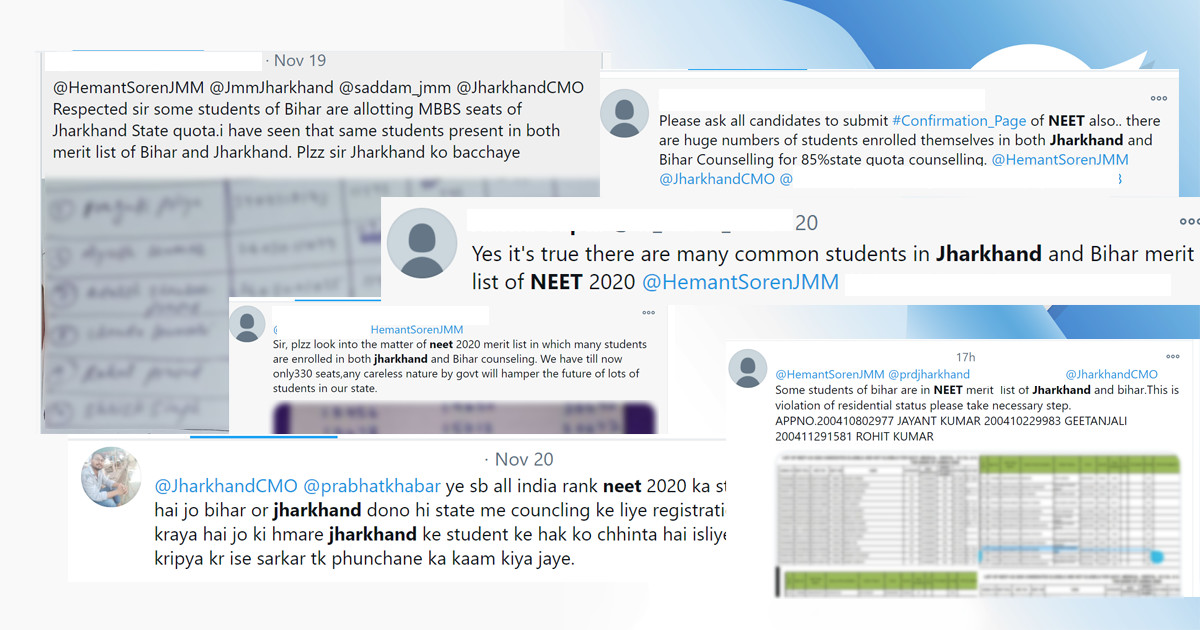 What are NEET rules
During NEET exam registration, students are asked to fill their home state.
Students must have the state domicile.
Only those candidates who qualify NEET will be eligible to participate in the counselling process.
To participate in the state counselling, a candidate needs to fill an online application.
After counselling, students take admission in medical colleges across the state, depending on their marks.
These students assert that with many students from Bihar applying in Jharkhand, meritorious students of Jharkhand will not get seats in the Medical & Dental colleges of the state. Jharkhand government had also given assurance in the past to take action for such discrepancies, but nothing was done. This year too the same mistake is being repeated.