Priyanka Sharma, a 30-year-old woman of Khatnai Village in Godda, Jharkhand is sewing school uniforms on an Usha industrial sewing machine. Priyanka along with other women is working at a sewing centre in Sikitiya village of Godda district. All these women are members of a self-help group formed by them three years ago.
Priyanka while sharing her story of struggle she told, she has studied only till Class 8. Few years back she was living in a house with a roof made up of thatch and no electricity, running water or even toilet. There were days when she didn't have enough money to feed her family. Her husband Munna Sharma was the sole breadwinner of the family and was a daily wage worker in Pune. In 2014, he became handicapped after a speeding vehicle ran over him. The family had no agriculture land or assets, hence they found it hard to fulfill their basic requirements.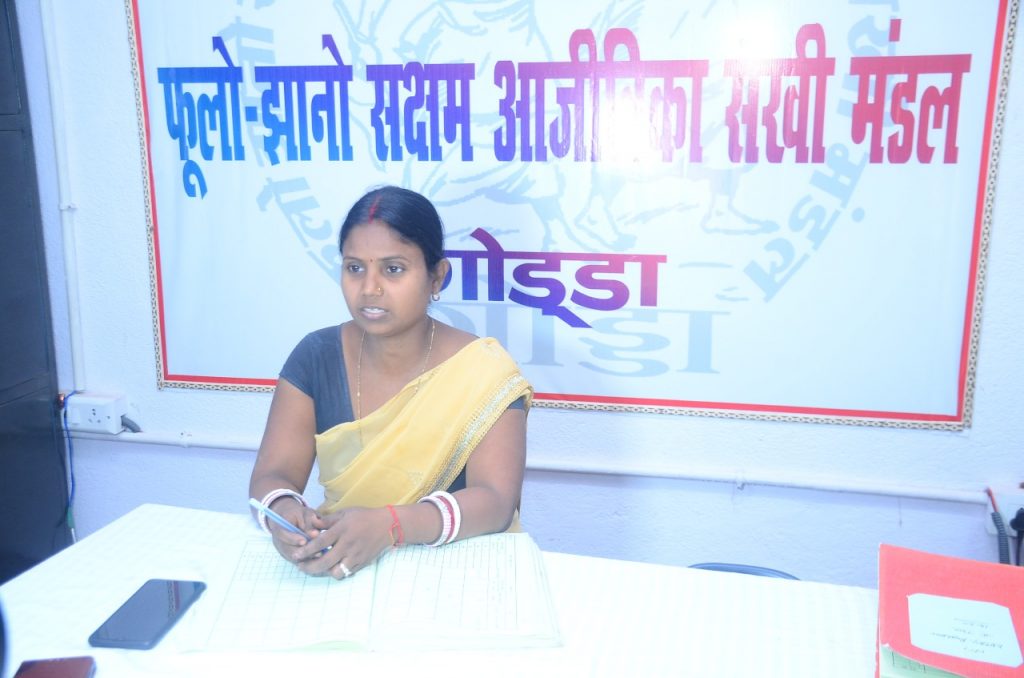 "I used to do some sewing work, but what I earned was not enough," said Priyanka as she breaks down recalling her bleak past. Less than 2 km from where Priyanka lived 46-year old Sangam Jha. Her husband was suffering from blood cancer. There was only a small government hospital in Godda and anybody suffering from a serious ailment in the district was forced to travel either to Patna, Ranchi or Kolkata, all located over 300 km from Godda.
Sangam made a decision of getting her husband treated at a cancer hospital in Kolkata. She was an agricultural labourer running the family of four. She had to feed her two children and also pay for her husband's medicine. After working for years at construction site, she became infirm and under-weight and couldn't do any hard manual labour.
In early 2017, a programme of training local women on industrial sewing machine was started by state government and private foundations. 12 sewing centres were established in the three most backward blocks of Godda districts – Godda, Poriyahat and Sunderpahadi. The sewing centres were equipped with semi automatic machines, electricity generator sets and raw material (cloth, wool, thread, buttons and needles). "The women here are rural. Most of them had to be really persuaded to join the skilling centres. We told them that even if they didn't get paid work after learning the job of sewing, at least they would be able to stitch the clothes for themselves and their family," said Shanta Devi, of village Motia, Godda, who was among the first to come forward to join the programme.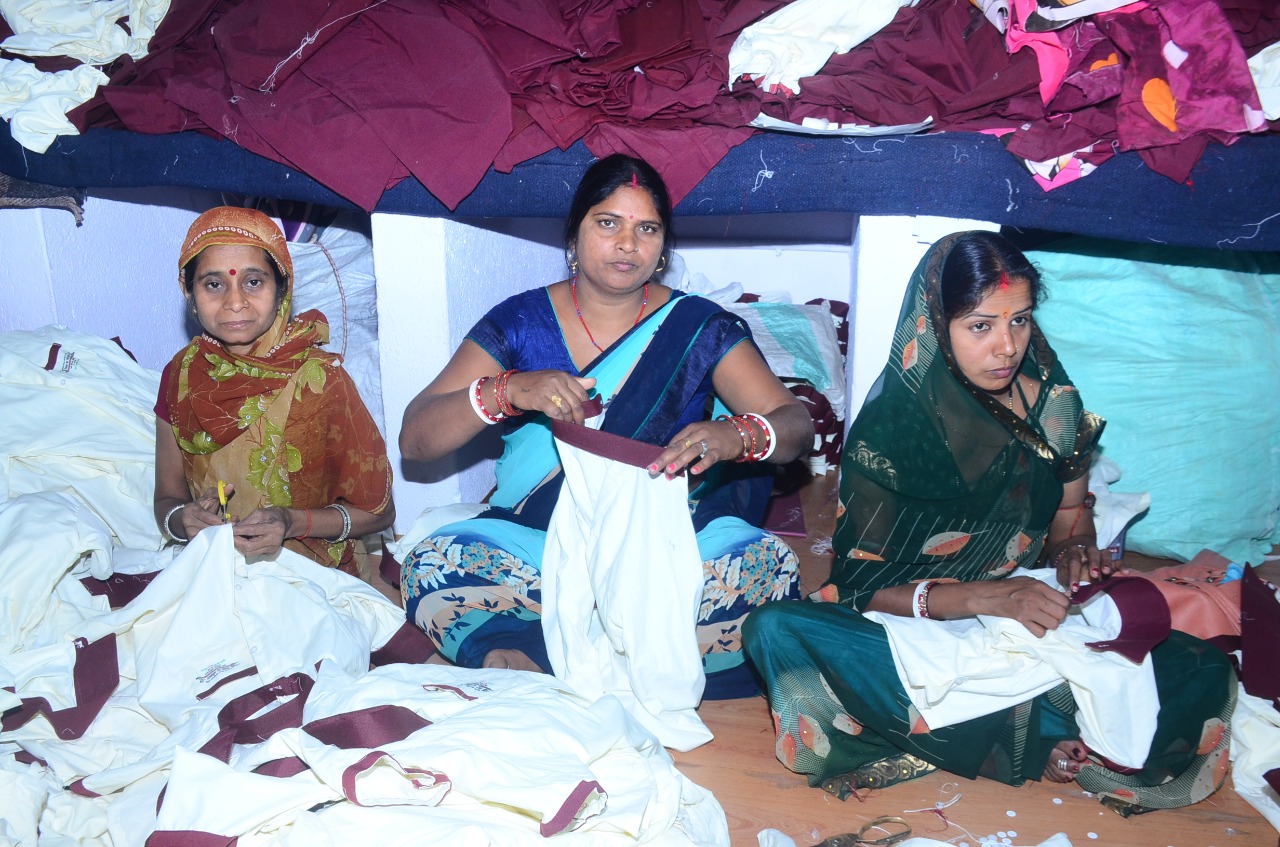 Devi, just like many others in Motia village had no toilet or drinking water. Her husband took private tutions earning not more than Rs. 3000 – 4000 per month. Also, she had two children whom she wanted to send to a private school. "I always wanted to do some work to support my family, but there was no opportunity, " said Devi.
Women like Priyanka, Sangam and Shanta who had nothing to lose, joined the sewing training centre in Godda.
In December 2018, the women of Godda organised themselves into a self-help-group named after two historical figures – Pholo and Jhano.
In January 2019, Pholo Jhano Saksham Ajeevika Sakhi Mandal (PJSASM) was given the contract for sewing school uniforms for 1.5 lakh children by district administration of Godda. The contract was worth Rs. 6.10 crore.
"We were over the moon after receiving the contract. But we had no source of income and therefore, we had no capital to invest. The challenge was how to begin the work. Then a private foundation gave us 150 industrial sewing machines, following which the district administration gave us 30 percent of the contract value as advance payment to enable us to begin the work," said Devi.
But the contract was huge and the materials needed to stitch the uniform involved a robust cost. Apart from that, additional expenses of electricity, diesel generator, sewing machine maintenance and repair etc.
They decided to buy cloth from Surat and other materials like thread, button, hooks, collars, etc from Kolkata.
"It was a huge challenge. We motivated the women to come forward and finish the task. All of them worked from 8 am till 6:30 pm. Even during lunch break, they would race to finish their food fast so that they could get back to stitching the uniforms," said Lucy Devi, another local woman, who also acts as PJSASM president.
By the end of September 2019, over three lakh uniforms were delivered to district authorities. A group of poor, semi-literate women managed to complete the project before time earning total income of Rs. 1.41 crore.
After this project, Godda women decided to open a centre at Sunderpahadi with Rs. 33 lakh savings and Rs. 20 lakh loan from Canara Bank. While the building was provided by district administration, the Godda women purchased 33 computerised flat knitting machine and raw material from Ludhiana, Punjab.
In October 2019, an MoU was signed between Sarv Shiksha Abhiyaan and PJSASM under which the self help group was given the job of sewing school uniforms of Godda school children for 5 years.
In November 2019, the district administration asked them to supply school shoes, socks and woolen pullover along with the uniforms. The contract was fixed at Rs. 600 per student for approximately 1.5 lakh school children.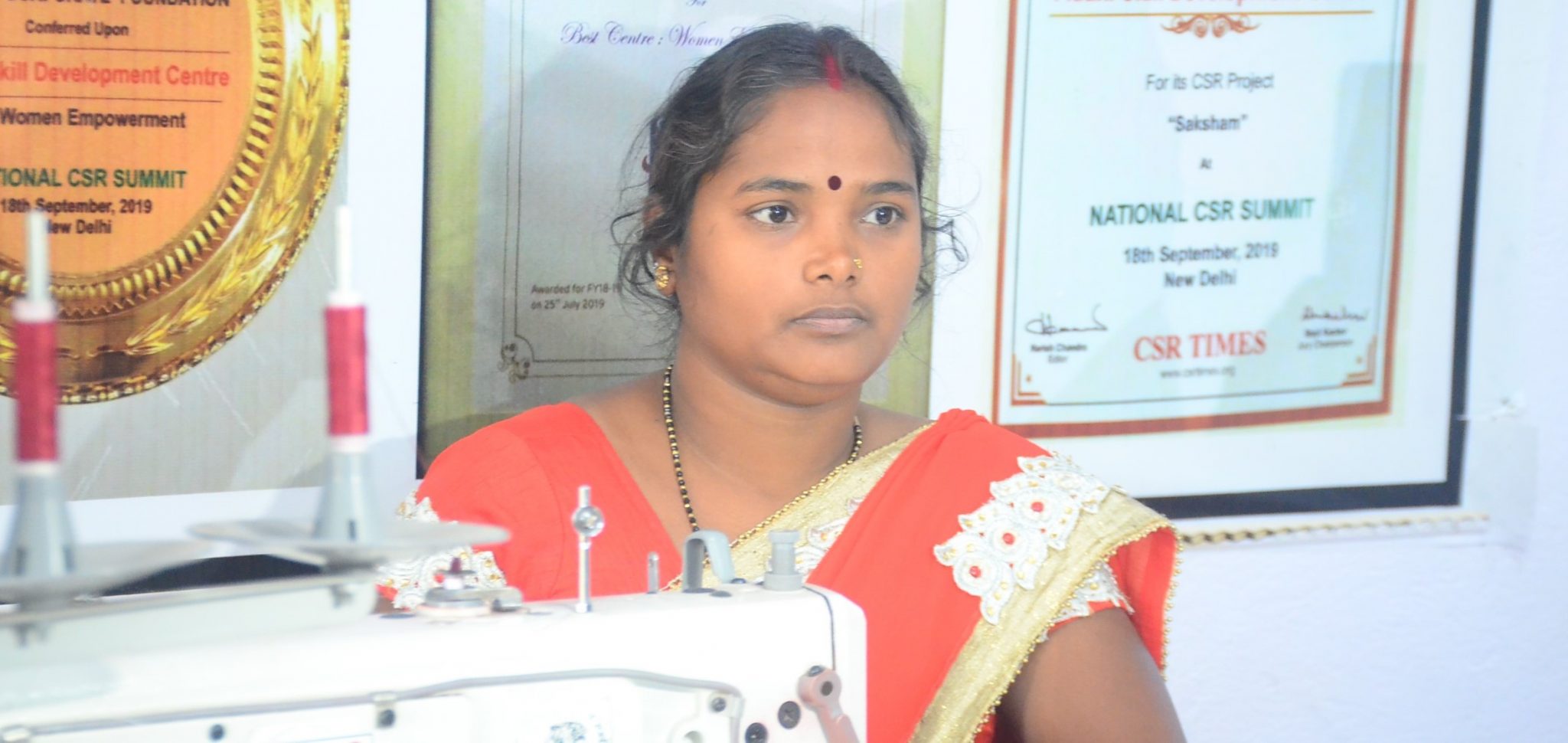 By March 2020, PJSASM had Stiched uniforms for students of Class I and II. Also, they procured shoes from Delhi and socks from Kolkata. Then, on March 24, 2020, nationwide lockdown was imposed and all 18 sewing centres were shut down.
Then again in April 2020, PJSASM were given orders to produce 1.57 lakh three layer cotton face masks and had to supply them to the administration within 15 days. PJSASM delivered the masks and was paid Rs. 15.7 lakh. By June-end 2020, lockdown ended and Godda women completed the second contract by November 2020, earning a net income of Rs. 1.71 crore.